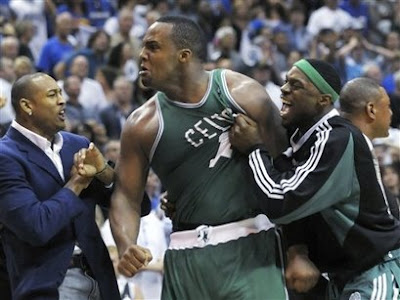 After
Glenn Davis
dropped the
Orlando Magic
tonight in the second round of the
NBA Playoffs
, we got to thinking about all of the other sub-par NBA players throughout the years that have canned some pretty big shots. Guys like Robert Horry and Derek Fisher kept coming to mind which gave us an instant headache.
Here is the list starting with "Big Baby" of course...
Glen "Big Baby" Davis takes out the Magic in game 4.
Derek Fisher with 0.4 seconds left after Duncan went pre-mature miracle.
Robert Horry ends the Queens after the luckiest tip out in history.
Tim Duncan unlikely only because it was a god damn three.
Sean Elliott goes tippee-toes on the Blazers.
Rex Chapman with the impossible one footer.
Steve Kerr rather than MJ hitting the Chip clincher.
John Paxson, another short white guy, pulls off some Bulls magic.
And this may have been at the end of a half, but Aaron Brooks, damn.
And not that this was "unlikely" for Rob, but for him to do all of this...
Any of your favorites that we missed?
______________________________________________________________________ Make sure to follow us on Twitter and subscribe to Blaze of Love for instant updates!