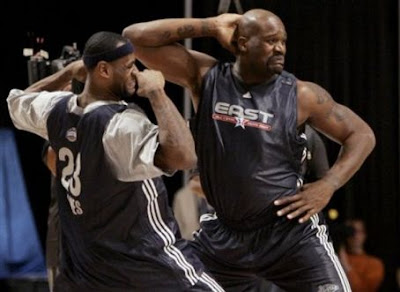 The
2009 NBA off-season
may have provided an incredibly weak draft, but it sure hasn't disappointed with it's
free agent class
. It was all supposed to be about the 2010 class, but with this year's batch, some of the big dogs in the NBA have gotten much, much better.
Here is a breakdown of the major
NBA 2009 off-season free agent
moves...
(As these become finalized and numbers are released we'll keep on updating.)
Atlanta Hawks
-Re-sign Mike Bibby, G - 3 years $18 million
Boston Celtics
-Sign Rasheed Wallace, F
Chicago Bulls
-Sign Jannero Pargo, G - 1 year $2 million
Cleveland Cavaliers
-Trade for Shaquille O'Neal, C
-Re-sign Anderson Varajao, F - 6 years $42.5 million
-Sign Anthony Parker, G
Dallas Mavericks
-Re-sign Jason Kidd, G - 3 years $25 million
-Sign/Trade Shawn Marion, F - 5 years $39 million
Denver Nuggets
-Re-sign Chris Andersen, F - 5 years $26 million
-Trade for Aaron Afflalo, G/F
Detroit Pistons
-Sign Ben Gordon, G - 5 years $55 million
-Sign Charlie Villanueva, F - 5 years $35 million
Houston Rockets
-Sign Trevor Ariza, F - 5 years $33 million
Los Angeles Lakers
-Sign Ron Artest, G - 5 years $33 million
Memphis Grizzlies
-Trade for Zach Randolph, F
Orlando Magic
-Trade for Vince Carter, G/F
-Sign Brandon Bass, F - 4 years $18 million
Phoenix Suns
-Re-sign Grant Hill, F - 1 year $3 million
-Sign Channing Frye, F - 2 years $3.8 million
San Antonio Spurs
-Trade for Richard Jefferson, F
-Sign Antonio McDyess, F
Toronto Raptors
-Sign Hedo Turkoglu, F - 5 years $53 million
-Re-sign Andrea Bargnani, F - 5 years $50 million
-Sign Jarrett Jack, G - 4 years $20 million
______________________________________________________________________ Make sure to follow us on Twitter and subscribe to Blaze of Love for instant updates!