I actually can't believe I just clicked the "Publish Post" button...
Anyways, if you haven't already heard, the Blazers are reportedly
going to work out Greg Ostertag
as he makes a move to re-ignite his once under-productive NBA career. And since we hadn't done a list in a while, we thought this was the perfect opportunity to promote this once-in-a-lifetime comeback from a former Jayhawk!
5. Toughness
- With "your" Portland Trail Blazers lacking the toughness needed to win an NBA Championship, what better way to solve that than to welcome in a guy that stands up to...well...refs!
4. Injuries
- Who wouldn't want to welcome in a guy that only played all 82 games in a season 3 times in an 11 year career. Fits right in doesn't he? And the fact that this 7 footer can fall on his neck, roll up in a pretzel, and still snap back up, says more than that other 7 footer who rolls his foot in game 1 and is gone for 3 weeks after missing an entire season from a couch-related knee injury!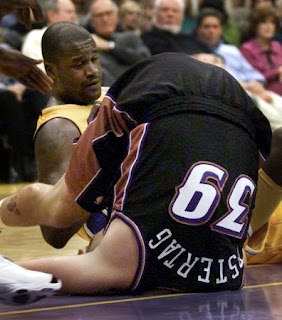 3. Inked
- There seems to be a lack of tattoos around the locker room. OK, aside from Joel's hilariously old "And One guy" tattoo and that awful rosary/praying hands thing that's taking over the squad, doesn't this team need more? Ostertag can most definitely
help out in this department
.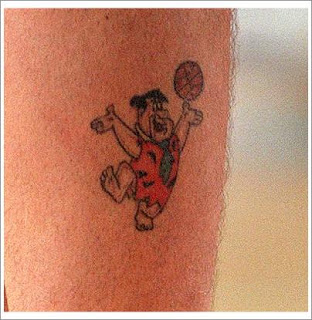 2. Greg x 2
- Two Greg's? Two G.O.'s? Oh boy. How could you not want two 7 foot Greg's on the same team? During the season, while people keep shouting "JESUS GREG! GET IT TOGETHER!" or "WTF GO! ENOUGH HACKING" we won't necessarily know which one they're talking about. This could help in the mental stability of Oden during his most anticipated season yet. Plus they both have fantastic hair.
1. Memories
- Just look at the picture people.
Welcome to Portland!
______________________________________________________________________ Make sure to follow us on Twitter and subscribe to Blaze of Love for instant updates!