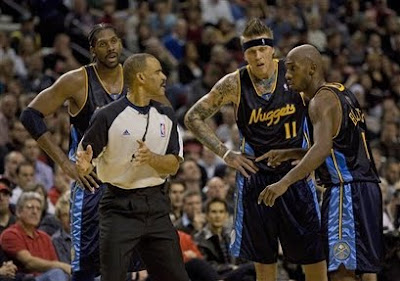 A party full of post-game links and coverage to give you every over-analyzed angle in hopes of making your Blazers IQ that much greater.
Where do we begin with this one? It was tough to not be disappointed and frustrated while walking out of the Rose Garden last night, but at the same time, the final result was probably the right result. By no means did the Blazers deserve to win that game. Sure they had chances, but when it's all said and done, this team might still be too young to live up to everyone's expectations.
The 60 win team that you all dreamt about is not here. Yet. As much as I hate to say this, we all have to continue to be patient. This team is the 1000 piece puzzle of a snowy field. It frustrates the hell out of you because a ton of the pieces look similar yet you know it all fits together somehow, someway. You spend countless hours plugging them in only to find out it's not the perfect fit. Many nights leave you wanting to quit but you've put in so much time and effort that you keep working at it. You are waiting for that one piece that will push you through and in time, you'll find it.
Mr. Oden
What happened to Greg Oden last night might be one of the greatest things that could have happened to the young lad. He has now been in the situation that all the greats ones feast upon. His failure to flurrish in that moment is part of the growings pains of becoming an elite NBA player. Keep your head up big guy. Had your teammates made their free throws leading up to yours, you never would have been in this position. It's a team sport and I'm not about to put this game on you.
Mr. Aldridge
Where you at buddy? $65 million later and we're still waiting. I understand that we're only two games deep, but you haven't stood out in either of them. I really can't think of a possession where you did something that made me say, "Wow! Glad we paid you all that cash!" It's time to make a statement. It's time to show some emotion.
Mr. Bandwagon Fan
Please go away now. Blowing up Twitter with "#EPICFAIL GREG ODEN" in game 2 of the season is f-ing ridiculous. You know absolutely nothing about basketball. Your source for information is the OregonLive Blazers forum where you are currently spamming off ESPN Trade Machine requests and claiming emphatically that Dre Miller is "out of shape." You can't pronounce Batum. You're still pissed that the team cut Ime Udoka because he's a "Portland guy." You refer to LaMarcus as "LMA." You booed a woman in the stands last year for wearing a Brandon Roy Huskies jersey. You left the arena last night with 1.9 seconds still on the clock because you didn't realize a three pointer would have tied it. And to top it all off, you are the main reason we are now paying almost triple to see any of the upper echelon teams.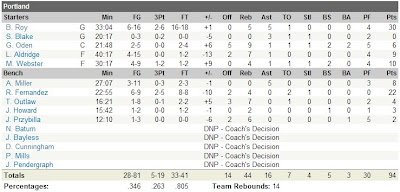 ______________________________________________________________________ Make sure to follow us on Twitter and subscribe to Blaze of Love for instant updates!