A party full of post-game links and coverage to give you every over-analyzed angle in hopes of making your Blazers IQ that much greater.
Quite a weekend I'd say. I'll admit upfront that I was extremely nervous about last night's game with the Thunder after watching one of the worst defensive performances ever against the Rockets on Saturday. (The team had dressed early for Halloween as Kyle Korver.) It sounds like Greg Oden stepped up in the "Rah! Rah!" category. Aldridge banged knees and could not return when the night before Blake found a way to. Roy went off in Houston, then couldn't buy a bucket in OKC. Travis Outlaw remains the worst player on this team. Dre Miller is struggling, really struggling. Martell Webster got torched and then was fortunate to find the coldest Kevin Durant in history. Rudy Fernandez has been non-existent. And now back home to take on the wildcard Hawks!
Houston Recap. Box Score...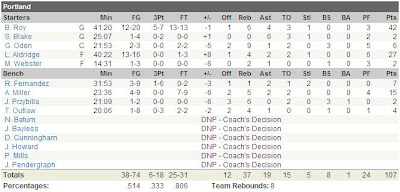 Thunder Recap. Box Score...
Highlights...
Tweets of the Game...
vs. Rockets

vs. Thunder


______________________________________________________________________ Make sure to follow us on Twitter and subscribe to Blaze of Love for instant updates!