A party full of post-game links and coverage to give you every over-analyzed angle in hopes of making your Blazers IQ that much greater.
I already vented
about Nate McMillan last night
, so I'll spare you a second one on the disappointing performance. You can only complain about a lack of on-ball defense, too many jump shots, and Travis Outlaw so many times.
And to all the Outlaw supporters out there, I could care less that the guy had 9 points down the stretch to keep the game close. Close isn't a win. His plus/minus on the game was -8 and he was out of position at least a half dozen times in the second half which turned into uncontested layups for Atlanta. Obviously, he's not the only guy at fault, but you could put him at the top of the list.
Recap. Box Score...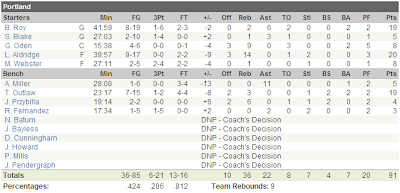 Tweet of the Game...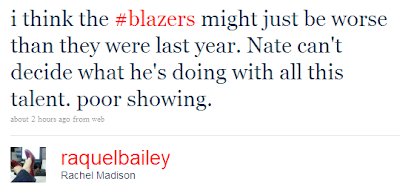 ______________________________________________________________________ Make sure to follow us on Twitter and subscribe to Blaze of Love for instant updates!